Product Description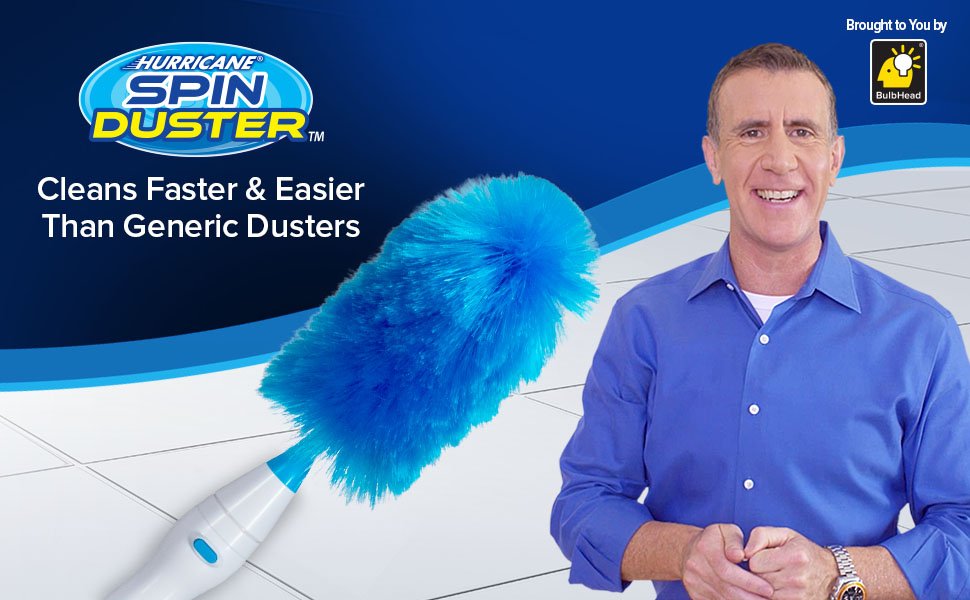 Features
Motorized dust wand
Does the hard work for you
Dust heads attract and trap dust
Super-soft dust head conforms to all shapes
Fits in hard-to-read places
Safe for all types of surfaces
One-button operation
Reusable dust heads
Battery operated – 4 AA batteries not included
Includes Hurricanes Spin Duster™, mini dust head, and 15.8" extension rod
The painless way to dust your home.
Let's be honest – dusting is back-breaking work. Your old feather duster spreads dust everywhere, while using a cloth and spray is downright tedious. Hurricane Spin Duster is the motorized duster that eliminates dust in half the time. When you're ready to dust, just press the button and Hurricane Spin Duster starts spinning. All you have to do is glide it over your dusty surface. Hurricane Spin Duster practically does the work for you!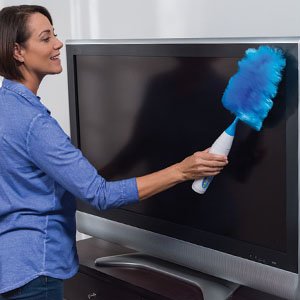 Attracts and traps dust.
When you use a feather duster, microfiber duster, or a generic bristled dust brush dust is pushed around. It goes back into the air and lands on another surface. You home isn't really clean. Hurricane Spin Duster has special electrostatically-charged bristles that attract and trap dust. The removable dust heads keep dust locked in the bristles until you wash the soft bristles.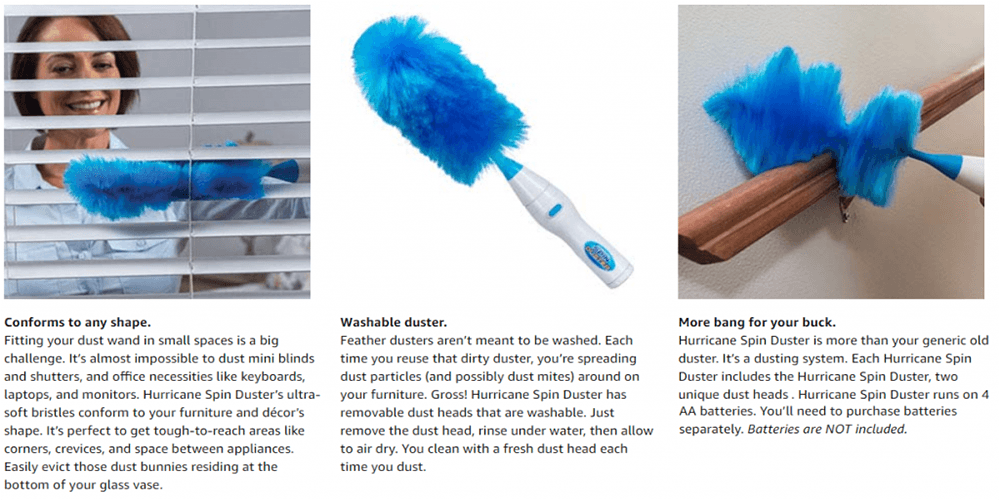 Specifications
Item: Hurricane® Spin Duster™
Material: Plastic + Metal + Rubber
Dimensions:
Long Head length: 29 cm
Short head length: 15 cm
Handle size (L x H): 24 x 4 cm
Extension Rod: 15.8 inches
Package Includes
1 x Handle
1 x Extension Rod
1 x Small Dust Head
1 x Long Dust Head