Product Description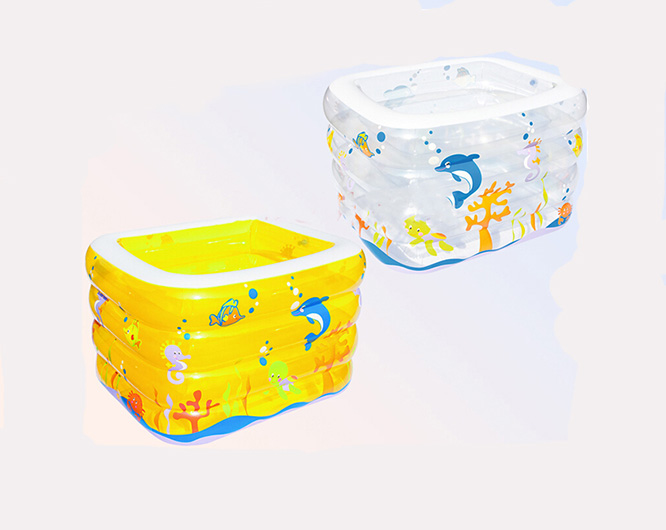 Features
Inflatable Square Pool
Thick Insulation
Comfortable inflatable bottom to prevent slipping
Easy to set up
Built-in Drain Plug (Easy drain)
Suitable for Babies (between 0-3 Years Old)
Suitable for long-term use
Particularly suitable for travel (Easy to fill and Drain)
Specifications
Item: Inflatable Baby Pool
Brand: Bestway
Material: 0.2mm PVC
Dimensions: 120*105*75cm
Applicable Age: 0-3 Years old
Water Storage: 380 liters (80%)
Colours Available: Transparent Blue, Warm Yellow (Subject to Availability)
Warning: Use only under adult supervision.
Pool Usage Instructions
Preparation before assembly
1.Find a solid ground and remove the debris from the floor.
Note: Do not install the pool under an electric wire or tree.
2. Carefully remove the pool and its accessories from the box
3. If a cloth is available, please spread the cloth on the floor at the selected location..
4. Check the drain valve of the pool, to ensure it is firmly plugged.
Installation of the tank installation without other tools. (By 2-3 people only 5 minutes to complete)
1. Expand the pool and place all the accessories on the floor near the pool.
2. Use a pump to inflate the pool (pump is not included). After inflation, ensure the safety gas plug is closed.
Note: Do not inflate if the pool is rigid. The pool should be stable before inflation.
3. Use a mobile sink to drain the drain valve close to the drain.
Note: to avoid damage caused by sharp objects, do not pull the pool on the ground.
4. Once you have filled water into the pool. Get into the bottom of the pool and smoothen the wrinkles at the bottom (starting from the center of the pool, clockwise to the outside).
5. Continue to fill water until it reaches 80% of the pool capacity. Please carefully ensure that you do not fill more than 80% of pool capacity.
Use of drain valve
1. Get out of the pool and unscrew the drain valve lid.
2. Connect one end of the pipe to the drain valve and the other end to the drain
Note: The drain valve has a control loop to control the flow of water.
3. Once the water has been drained, tighten the control loop and close the drain valve.
Note: Store in the place where it cannot be reached by children.
Reminder
1. Please do not use washing or any other form of chemical agent to clean the product.
2. First time installation may cause some slack because the PVC material will take a while to adapt to inflation.
3. Only fill 80% of the pool with water, so as not to cause damage to the drum package.
4. Do not place the product near fire and high temperature objects.
5. Do not let any sharp object near the pool.
6. We recommend to purchase and keep the Bestway special repair glue on standby.
7. The pool should be used under adult supervision, do not let children play with any sharp or hard objects while using the pool.
Summary
Author Rating





Brand Name
Product Name
Price
Product Availability