Product Description
The 3-D Bubble-Bed in the inside layer of the diaper is super fluffy and provides cotton like softness to the baby's skin.
The 3-D Bubble-Bed ensures excellent absorption and spreads the wetness evenly – leading to outstanding dryness.
Huggies Wonder Pants absorbs wetness for up to 12 hours to allow the baby a dry and comfortable sleep overnight.
The 3-D Bubble-Bed traps waste matter like runny poo to keep the surface of the diaper unbelievably dry.
Huggies Wonder Pants comes with a Cushiony Waistband, which is so soft that it helps protect the baby's waist against red marks.
The super flexible waist band elastic provides the baby with a comfortable fit and adapts to the baby's movements.
These disposable diapers come with a Triple Leak-guard, an extra padding on the sides of diaper, which helps reduce leakage from the sides on to the baby's thigh & legs.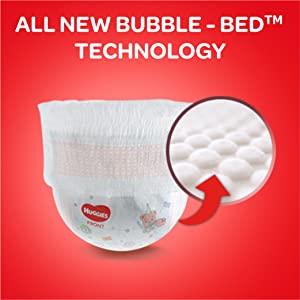 Huggies Diaper Pants with Bubble Bed Technology
As parents, your ultimate objective is the care and comfort of your baby. Next generation Huggies Wonder Pants with Bubble-Bed ensures that your baby's delicate skin stays soft and comfortable, while providing up to 12 hours of absorption. With Huggies Wonder Pants, your baby's skin will remain dry and protected, day & night.
Special Features
Bubble-Bed – A comfortable bed of absorbent bubbles for a soft & dry feel, all at once.
Soft comfort of Bubble-Bed – A truly soft inside layer which feels like a bed when the baby wears the diaper pant.
Upto 12 hours absorption – Absorbs for upto 12 hours to keep the baby's skin dry and comfortable overnight.
Cushiony Waistband – Next generation waistband to help protect the baby's waist against red marks.
Triple Leak-guard – An extra padding on the sides of the diaper pant to help reduce leakage from the sides on to the baby's thigh.
Specifications
Brand: Huggies
Item: Wonder Pants
Size: Large
Weight Recommendation: 9 to 14Kg
Quantity in Pack: 64 Pcs
Country of Origin: India
How to Use & Dispose
How to Wear – Lift the baby's legs one by one and pull the diaper pant up. Follow 'Front' and 'Back' direction on the diaper
How to Remove – After the Diaper is fully used, tear off both sides and pull the diaper down for removal.
How to Dispose – Dispose of the used diaper in dry waste bin. Do not flush the used diaper in toilet.
Summary
Author Rating





Brand Name
Product Name
Wonder Pants Size L 64 Pcs Pack
Price
Product Availability