Product Description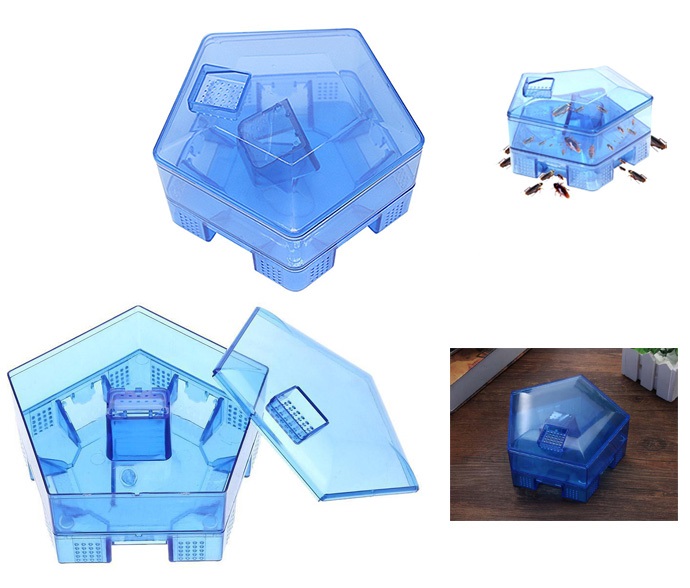 Features
Non-Toxic
Eco-Friendly
Reusable
Cost effective and durable
Easy to clean
Sanitary Cockroach Trap
Specifications
Item: Cockroach Trap
Size: 8.7 x 8.7 x 6.7 cm
Material: PP + ABS Plastic
Package Includes: 1 x Cockroach Trap
Ways to dispose the cockroaches
1.Pour warm water into the trap to kill cockroaches OR
2. Place the trap in the sun, until the cockroaches die of dehydration
3. Free the cockroaches into the wild
Special Instructions
1. To attract cockroaches, it is recommended to use food as bait such as bread, cereal, cookie crumbs, chocolate, oatmeal,chips etc.
2. Place the trap in cockroach infested places (preferably wet and dark places). Cockroaches will smell the bait and climb into the trap. Once cockroaches enter the trap, the trap mechanism ensures that they cannot leave the trap.
3. If you have set the trap and no cockroaches are caught for more than a week. Please change the bait or change the position of the trap.
4. Cockroaches are a gathered insect, therefore if you catch a cockroach please do not immediately dispose it as cockroach pheromones will attract more cockroaches into the trap.
5. Once the cockroaches are caught, do not open the trap without killing the cockroach as they will quickly escape.
6. Please do not place the trap in places frequented by ants.
Summary
Author Rating





Brand Name
Product Name
Price
Product Availability