Product Description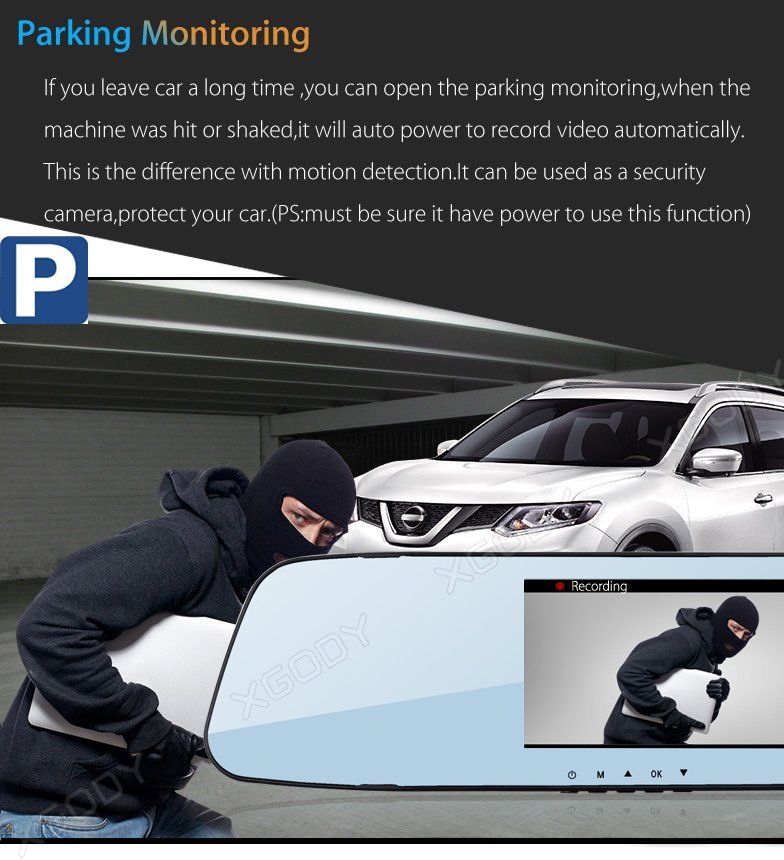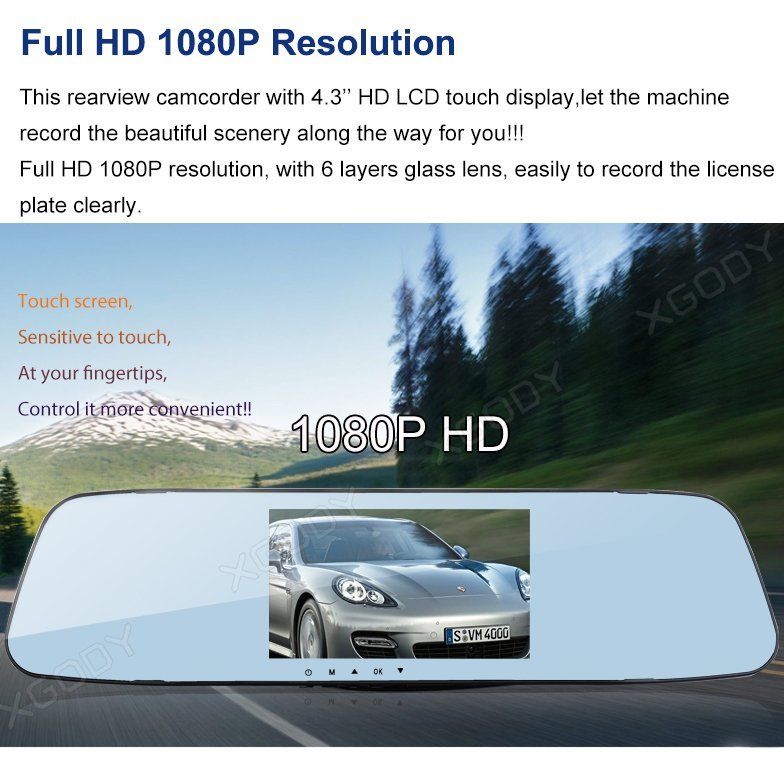 Features
4.3'' HD LCD digital touch screen, you just touch the screen to set what you want to do, convenient and efficient
Camera front lens is manufactured using 6 layers of A+ high transmittance glass
The front lens is with HD 1080P resolution, the back lens with 640*480 resolution
140 degree Ultra High-definition wide angle lens, flexible front lens, can adjust to any direction, backup camera can shoot the car's rear without blind area
With AV-in port, can fix a rearview camera
Picture in picture display, the video from both cameras can be displayed in the screen simultaneously (front & back, front, back)
Support reversing video camera, connect the red line of rearview camera to the anode of reversing lights. Insert the car charger, machine will automatically start recording, when your vehicle gear switches to R position, it will switch to reverse camera automatically
Supports 24 hours Parking monitoring, connect the DVR to the car battery with parking monitoring cable (is not included), Even though the vehicle is turned off, the machine can still record video, to achieve 24-hour surveillance
Supports G-sensor (Gravity Sensor), impact sensitivity adjustment automatically locks file
Supports loop-cycle recording
Supports video date and time stamp
Supports enhanced night vision
DVR Starts automatically
Easy to install DVR using the two soft brackets
Short press the M key to take pictures, short press the UP key to increase the volume, short press the down key to reduce the volume, short press the power key to close screen, the screen can be closed while recording
Specifications
Model No: L505C
Display: 4.3 inch HD LCD Digital Touch Screen
Video Resolution: Front: 1080P(FHD1920x1080) & 720P(HD1280x720), Rear: 640×480
Photo Resolution: 3M(1920×1088), 2M(1600×912), 1M(1280×720)
Built-in Image sensor: 120W
Lens Angle: 140 degrees
Video format: AVI
Picture format: JPEG
Storage compression mode: M-JPEG
Transmission Format: USB2.0
Power Interface: 5V 1.5A
Battery: Bulit-in lithium polymer
TF Memory Card Slot: Micro TF
Storage Card Capacity: Maximum support 32GB
Built in Speaker: 8R 1W
Built in Recording: Hi-Fi Speakers
Cyclic record: Off/1min/2min/3min
Enhanced night vision: off/on
Exposure: +-3,+-2,+-1,0
Date stamp: on/off
Gravity sensing: off/high/standard/low
Parking guard: off/on
Auto power off: off/1min/2min/3min
Frequency: 50HZ/60HZ
LCD brightness: off/30S/1min/2min
Quality: fine/normal/economy
Anti-shaking: off/on
ISO: off/on
Sharpness: strong/normal/soft
LCD brightness: off/30S/1min/2min
Language: English / Chinese
Storage temperature: -30℃~70℃
Operating temperature: 0℃~50℃
Operating humidity: 15-65%RH
Country of Manufacture: China
Certification: CE
Package includes:
1 X Car DVR
1 X Car Charger
1 X Rear View Camera and AV in line
1 X User Manual
2 x Screws
2 x Soft Brackets
FAQ (Frequently asked questions)
Q: Why do I need a vehicle DVR?
A: It can record everything that occurs while you are driving. The high-quality video & audio can be timely and strong evidence to address accident and distinguish responsibility. It can capture clear videos for owners who want to monitor the car, it is a functional assistant for your private security.
Q: Why does the DVR power off automatically after working for a few minutes?
A: Please make sure it is connected to your vehicle to provide power because the battery can't work for a long time without power.
Q: What can I do if it can't record video normally?
A: You can change the TF card; change the resolution, frames per second; insert a larger capacity memory card; make sure the card has been installed correctly (during the installation process; you should hear a clicking sound), delete unnecessary files from the memory card to release space.
Q: Why is the video not clear?
A: Please ensure that the camera lens is clean; wipe off the dust and dirt on the lens, then shoot.
Q: The DVR is working normally but the keys are not working properly?
A: Press the reset button to initialize the machine (Please be careful when resetting initialization, the operation is likely to lead to loss of data).
Q: Should I activate the motion detection function while driving?
A: Please deactivate the motion detection function on driving or the DVR may miss some pictures/video. You can activate the function while parked.
Q: What is the meaning of loop-cycle recording?
A: When the storage space is full, the DVR will automatically delete the oldest files automatically and continue recording new video, but it will not delete protected videos that are recorded while the vehicle is shaking.