Product Description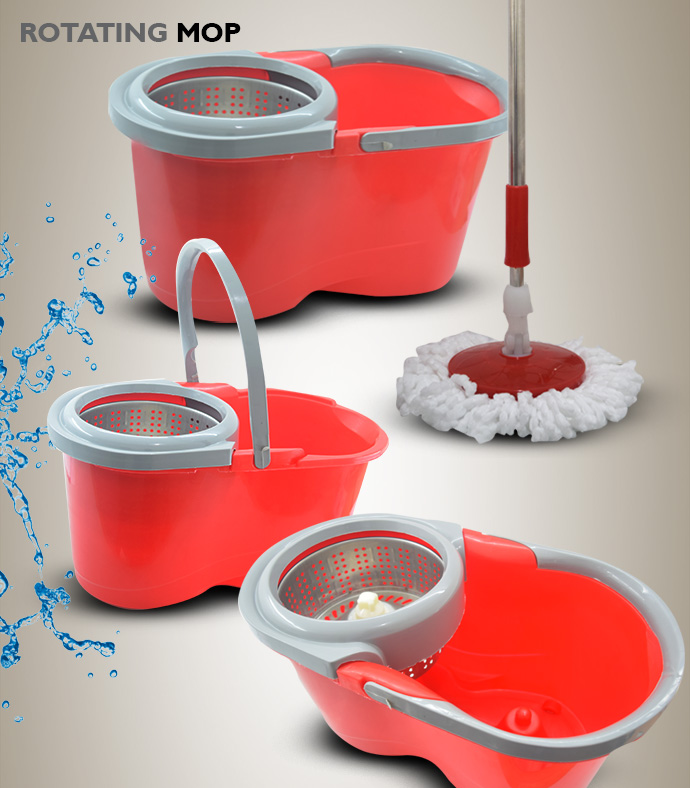 Features
Ergonomic design
Lightweight
Absorbs dirt or spills quickly
360° Rotatable swivel head
Patented Bucket with Centrifugal Dryer Technology
Bucket with handle and wheels
Leave no streaks or smears
Easily collects hair, dirt & dust
Hand press dehydration
Extendable and retractable mop handle for ease of storage
Specifications
Item: Magic 360° Spin Mop and Bucket Set
Colours: Red, Green, Blue
Bucket Dimensions (L x W x H): 45 x 27 x 24 cm
Bucket Material: Plastic
Draining Basket Material: Stainless Steel
Rod Material: Stainless Steel
Mop Head Material: Microfiber
Country of Manufacture: China
Package Includes:
1 x Microfiber Mop Head
1 x Spin-Dry Mop Bucket
1 x Handle Set
Assembly of Mop
Loosen the plastic screw cap at the handle joint, insert the upper handle to the bottom handle and tighten the screw cap to finish the handle assembly.
Usage Instructions
1. Turn on to release the handle lock. Turn off to lock the handle.
2. Fill water in the bucket no more than the maximum water level indicated in order to avoid any spillage.
3. Clean mop in water bucket by moving the handle up and down several times until all the dirt and grime have been released by the mop head.
4. Gently place mop head flat in the spinner and push down the mop head.
5. Press handle up and down 3-6 times to wring dry the mop head. The more you press on the handle, the less the moisture that remain on the mop head.
Note: Colours may vary slightly from images.
Summary
Author Rating





Brand Name
Product Name
Magic 360° Spin Mop & Bucket Set with Wheels
Price
Product Availability