Product Description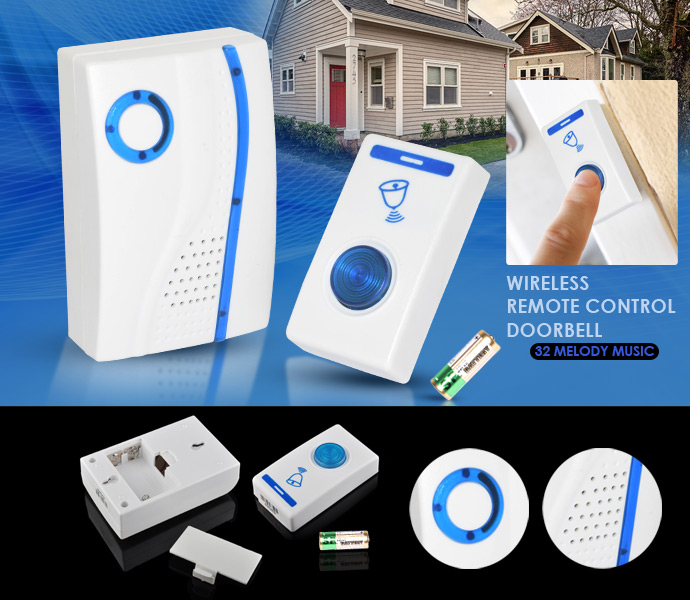 Features
Multiple ring tones
No-wire installation
Built-in anti-interference design
Double speakers for crisp, clear sound
Suitable for office or residential spaces
Specifications
Product Name: Wireless Doorbell
Material: Plastic
Doorbell Range*: up to 100 Meters in open air
Application Space: Office, Residential space
Frequency: 315MHz±0.5MHz
Active pressure wave(receiver): ≤-57dbm
Negative pressure wave(button): ≤-36dbm
No. of Ring Tones: 32
Power Supply (Button): 1 x 12V 23A Alkaline battery (included)
Power Supply (Receiver): 2 x 'AA' 1.5V batteries (not included)
Working power consumption: ≤5W
Transmit Power: <10mW
Receiver Dimensions: 9.5 x 6 x 3cm
Button Dimensions: 7.2 x 3.8 x 1.7cm
Colour: As shown in images
Attention: If you are purchasing more than one unit please note that all bells follow the same frequency and may interfere with each other if installed within a space of 100 meters.
Note: The doorbell is not waterproof.
*Although line of sight is not required, the maximum range is based on optimal conditions with minimal interference. Wireless range is affected by objects such as walls, trees, etc. Actual range may vary, depending on environment.